You can find a dealer in two ways:
On every page on our site, scroll down to the bottom of the page.  You will find a menu for Find A Dealer. 
The other option is from our Shop Section.   Once you have located the item that you are looking for, view the area under Shop Locally in ….  If you are looking for a different dealer than listed, you can then click on "SHOW ALL LOCAL OPTIONS". You can also adjust the location if needed by clicking "change".  Additionally, clicking on the dealer's name will reveal a map with their location, directions and phone number.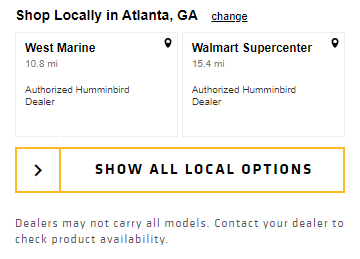 Some dealers may even include whether the item is in their inventory at their location. 
Because we sell primarily through distribution and boat builders, it is possible that not all stocking dealers names are made available to us.