Is it possible to load way points that I found in Google Earth into a gpx file and into the unit with out manually retyping every waypoint?
HumminbirdPC uses Google Earth to display waypoints, tracks and routes, and Google Earth has the ability to open .gpx files directly. But Google Earth doesn't have a way to save waypoints as a .gpx file, so we don't have a way to import those waypoints directly into HumminbirdPC.
There is a work around for this situation. Please keep in mind: any waypoints you import into your Humminbird unit, from an outside source, have the potential to corrupt your waypoint data and cause problems with your unit. If you decide you would like to proceed, take the following steps.
While in Google Earth:
Once you have created the waypoints you wish to load to your Humminbird product, you will need to right click on Waypoints to obtain the following drop menu. Select, Save Place As…
Once you have, you will save this to a location on your computer to find later under the file type of .kml.
You will then go to GPS Visualizer, http://www.gpsvisualizer.com/gpsbabel/ , to convert the newly saved KML file to GPX, Garmin or Lowrance; a format that HumminbirdPC will recognize. See the example filled form below.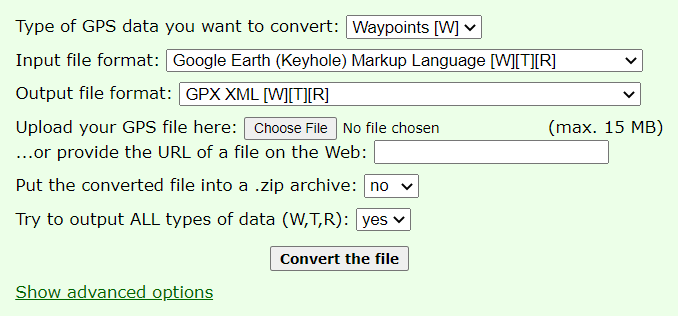 For "Try to output ALL types of data (W,T,R), select yes.
Once the form is filled and you click on Convert the File you will see the following. You will then Click on the underlined file showing the successfully converted file.
With using Internet Explorer, a pop up will appear at the bottom of the screen asking what you would like to do. We would ask that you click on the arrow next to Save and choose Save as…. See below:
You will need to save the converted file to the same folder/location as the original KML file for ease of access.
You will then open HumminbirdPC and click on File and click on Open…
Once you have the Open box up, click on the drop arrow for Files of Type and select Garmin or Lowrance, whichever was chosen for the conversion from GPS Visualizer.
Browse for the folder/location of the file and select this file. Click on Open.
Click on Yes to finalize the conversion to Humminbird Format.
You will then be able to open the converted file to view the waypoints that originated in Google Earth.