Should you see the message above displayed on your compatible HELIX 10 or HELIX 12 after inserting your New LakeMaster or LakeMaster PREMIUM with VX Technology, this means that your card is in the "Locked" position. Simply remove your card and move the toggle on the side of the card to the "Unlocked" position and insert the card once more in your Humminbird.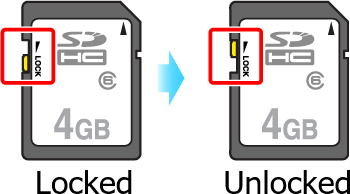 The maps will still load normally while the card is in the Locked position, and the encryption message will disappear on its own. However, the message will reappear every time the unit is powered on with the locked card already inserted, or when the card is inserted.
Once you have unlocked the card and inserted it into your Humminbird, the unit will place an encryption file on the card, and the message will not reappear regardless of locked status.